Rust Check is Now Available at Discovery Ford
Blog
Apr 10th, 2020
We are excited to announce that we now offer Rust Check at Discovery Ford! Learn more about Rust Check and how your vehicle can benefit from it, below.
What is Rust Check?
Rust Check is a light liquid oil-based product with active corrosion inhibitors. Its main function is to penetrate into crevices, displace existing moisture, and then keep moisture from re-entering. Without moisture, corrosion cannot occur.
Coat & Protect is a thicker version of Rust Check, with the same active ingredients. It's thickness gives it a good wash and wear resistance. The main function of Coat & Protect is to protect exposed areas of the undercarriage. Unlike traditional undercoating, Coat & Protect is non-drying, so it won't crack or peel. Coat & Protect also is an excellent heavy-duty lubricant.
The Benefits of Rust Check
Penetrates welded seams, crevices and provides excellent protection for these corrosion-prone areas. Sealants are not as effective in protecting these vital areas.
It does not require shiny clean metal surfaces for good adhesion and is effective on both used and new vehicles.
While Rust Check will not reverse existing corrosion damage, it will drastically reduce its progression.
A unique electro-chemical compound that contains self-healing properties.
Dispels moisture trapped in seams and crevices; "Sealants" usually trap moisture in these corrosion-prone areas.
Unlike sealants, is non-drying; it remains mobile and will never dry, crack or peel.
Lubricates as it protects against corrosion.
Unlike sealants, does not contain any offensive odours or potentially toxic petroleum solvents.
It will not damage painted surfaces and any over spray can be easily cleaned off.
It is completely reapplied each and every year to maintain a high on-going level of protection. Sealants are usually just inspected or touched-up.
Offers annually renewable warranties with unlimited mileage and transferable ownership for new and qualified used vehicles.
Vehicle Application
Rust Check utilizes a unique two-step application process designed specifically to provide highly effective corrosion protection by utilizing products appropriate to different parts of your vehicle. The protection your vehicle requires varies as a result of its design. One product cannot be effective in all areas.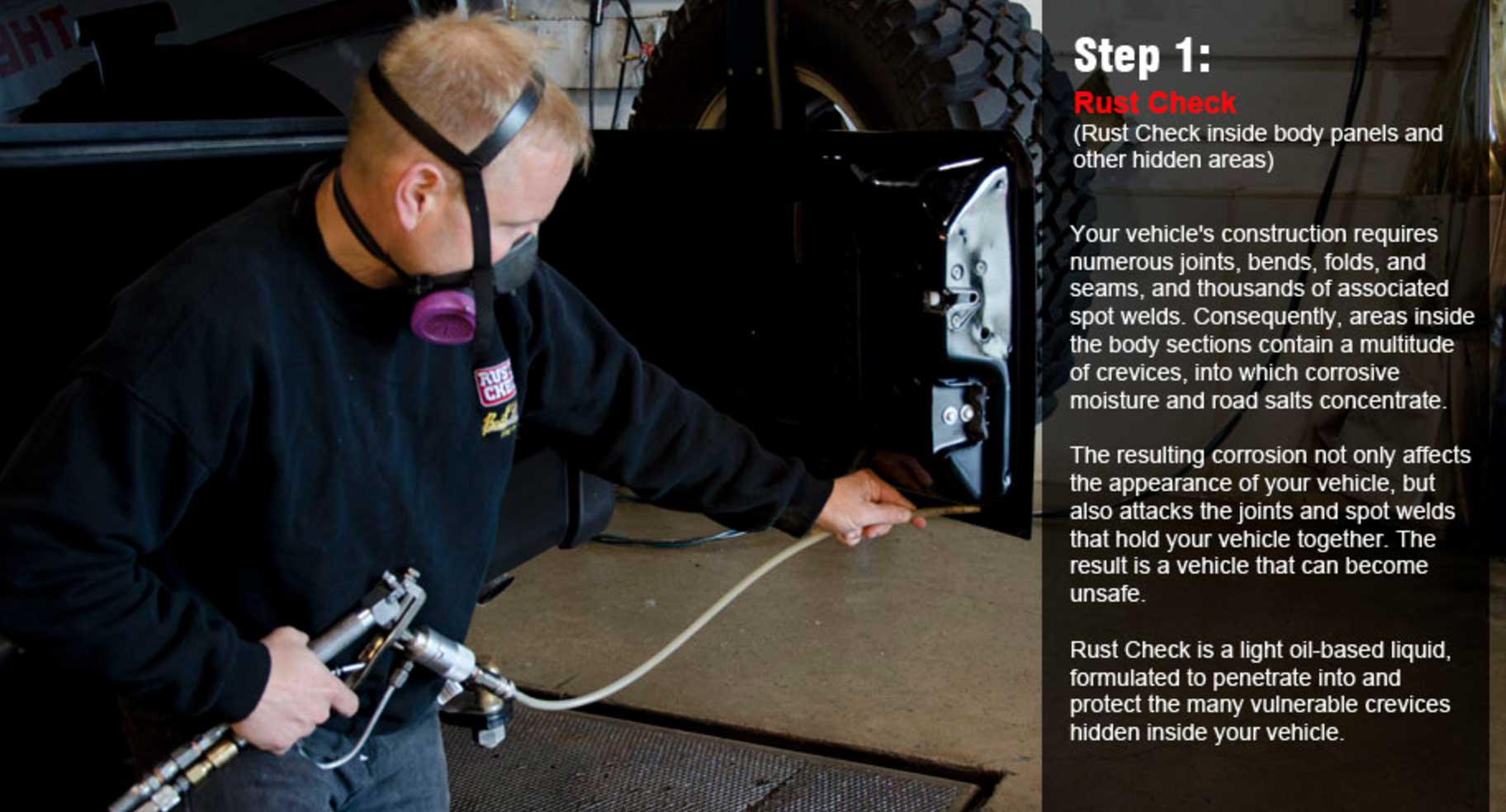 To book your Rust Check appointment please call or email our service department at 905-632-8696 or service@discoveryford.com.
We know your time is valuable, in order to serve you better we recommend booking an appointment.